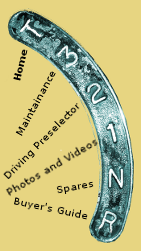 So, why buy a Lanchester L. D. 10?
The Lanchester L.D. 10 looks great of course! But when I first bought my car, my choice was based on quite a bit of research into finding an affordable, reliable, practical and comfortable classic car with good road-holding and a reasonable supply of spares. The L. D. 10 ticked enough boxes to make the decision straightforward and a couple of years ago I became the fortunate owner of a 1951 Barker bodied coach built saloon. An added advantage being that the later Barker cars had aluminium bodywork and are therefore less prone to corrosion than the earlier Briggs steel bodied cars.
Owners of the cars are also fortunate in having a superb dedicated website which can be reached by clicking on the club logo at the bottom left hand corner of this page.
I hope that my Web Pages here will give an impression of what it is like to own one of these great old cars and will provide new and prospective owners with some easy to follow basic information about routine maintenance and repairs.
N

ow

L

et's

G

o

F

or

A

D

rive!

Click on this logo to go to the
Official L. D. 10 Club Website



"I am an amateur 'owner enthusiast' and have produced this site for my own and your entertainment. So please don't expect 100% accuracy and seek professional advice before carrying out any work to your car. I think 'Lanchester' is currently a registered trademark of Tata Motors." Website produced using SharePoint 2007 ©Microsoft, HTML The Missing Manual and Gimp image editor. Photographs, videos and site design © Catherine Jones 2015.

Aberystwyth University has no direct responsibility for the content of this website.