Many of the fuzzy-rough feature selection measures have been ported to Weka – the latest standalone program (i.e. the executable jar) is here, updated February 2021. (The previous version is here, last updated June 2019.)
If you want to process larger datasets, then you'll need to change the Java heap size. An easy way of doing this is to put this file: run.bat in the same directory as Weka (above) and double-click it. You can edit this file to increase or decrease the heap size.
Many of the algorithms can be found in KEEL and some have also been ported to R.
A worksheet that explains how to use Weka and the implemented fuzzy-rough algorithms can be found here.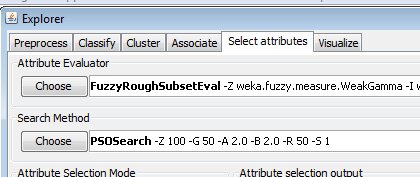 FuzzyRoughSubsetEval contains various measures and the option of selecting connectives, similarity measures etc. HillClimber is similar to Weka's Greedy Stepwise search, but allows search to a degree alpha (for alpha-decision reducts) and search using non-monotonic measures (such as VQRS). AntSearch implements ACO-based search and includes the option of using any subset evaluator for the initial heuristic matrix and subset evaluation. PSOSearch implements search based on binary particle swarm optimization.
In the Classifiers section, there is now a range of fuzzy-rough classifiers including fuzzy-rough nearest neighbours and QuickRules.