Lynda Thomas
Senior Lecturer (semi-retired) - Department of Computer Science - Aberystwyth University
Hello! Welcome to my exceedingly minimal home page.
---
Teaching
A guide to studying. In the day I mainly taught programming in Java and am still very interested in software design.
I was also the Department's Academic Advisor - here is a link to our schemes and details on modules
---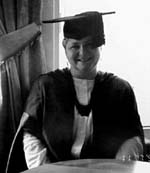 Research
My research interests centre around Object-Oriented design and problem solving.

I'm particularly interested in how people visualise complex systems and what this means to teaching.
---

Personal
I like to sing (badly) and am still trying to learn Welsh.
I was born in Wales but spent a long time in the USA (hence the accent).
I was previously a professor at Carroll University in Waukesha, Wisconsin. Aberystwyth still has an exchange program with Carroll.
---
Contact Details:
Department of Computer Science, Aberystwyth University,
Penglais,
Aberystwyth, SY23 3DB,
Wales, UK

Tel: +44 1970 622424


ltt@aber.ac.uk



---
The information provided on this and other pages by me is under my own personal responsibility and not that of Aberystwyth University.
Similarly, any opinions expressed are my own and are in no way to be taken as those of AU.