Hannah Dee's home page
I'm a senior lecturer in computer science who started at Aberystwyth University in October 2010. My research area is applied computer vision, and the thing I am currently quite excited by is that I've got a robot submarine (Autumn 2020). Due to COVID I don't yet know how to switch it on though.
You can find out a bit more about my research interests on the research page, and find links to my published articles on the publications page, stuff about outreach on the schools page, and stuff about the BCS - mostly BCSWomen on the bcs & bcswomen page.
Teaching
2020- CSM3120, Modelling, managing and securing data to MSc students
2014- PGM1610, Public Engagement to postgrad students (part of the Graduate School)
2019-2020 CS11110, Information Security to 1st year students
2015-2020 CS27020, Databases to 2nd year students.
2014-2019 CS34110, Computer vision to 3rd year students.
2010-2015 CS25210, Client side web programming (JavaScript)
2013-2014 CS15020, Web technologies to 1st year students.
2010-2012 SE36010, Engineering knowledge based systems to 3rd year students.
2010-2013 CS18010, Professional issues (particularly employability) to 1st year students.
Bio
Before Aberystwyth, I did a one year post doc position working in Grenoble (in the French alps), and before that I did a 3 year post doc in Leeds, and before that 6 months in Kingston upon Thames. My PhD is in computing (specifically computer vision/AI, supervised by Professor David Hogg). Before the PhD I was a teaching fellow at the University of Leeds teaching IT and computing to non-computing students, and during this time I got a teaching qualification (PGCLTHE, 2001). My masters is in Philosophy (1998), and my BSc is in Cognitive Science (1996) also from the University of Leeds.
I'm active in the BCS - and you can find more information about these activities on the BCS & BCSWomen page. The thing I'm most proud of is setting up the BCSWomen Undergraduate Lovelace Colloquium, a national one-day conference for women students of computing.
To my immense surprise I featured on the first computer weekly influential women in IT list (2014, ranked #15) and to my even greater surprise I have received a few more awards and rankings for women in tech stuff since.
Computer Weekly women in tech list, #15 in 2014 rising year on year to #9 in 2017.
BCS John Ivinson award for voluntary service across BCS Mid Wales and BCSWomen, 2016
In 2018 I was entered into the Computer Weekly hall of fame for those who have made a lasting contribution to women in tech - this is a lifetime award (so I guess I can retire now?).
In 2018 I was awarded a "Suffrage Science" award which is one of 6 awards given every two years for women in computer science. This takes the form of a brooch, representing punch tape, which (being a proper dork) I have decoded. The award is passed from one woman scientist to another every two years - I received mine from Professor Carron Shankland in Stirling and I passed it on to in autumn 2020 to Sue Sentance.
I enjoy teaching and take it seriously, trying to make my teaching innovative and engaging, and have received a few teaching awards:
Senior Fellowship of the Higher Education Academy (SFHEA), 2018
Student led teaching awards (SLTA), highly commended, technology enhanced learning category, 2016
Exemplary Course Awards (ECA), highly commended for Computer Vision, 2015
Exemplary Course Awards (ECA), highly commended for Client Side Graphics module, 2014
Student led teaching awards (SLTA), highly commended, teaching through technology category, 2013
Aberystwyth University Learning and Teaching Fellowship (AULTF), 2012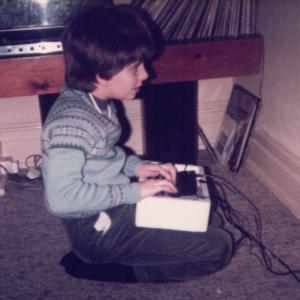 Contact details
Hannah Dee
Senior Lecturer
Computer Science,
Aberystwyth University,
Penglais
Aberystwyth
Wales
SY23 3DB
Telephone: 01970 621577
Office: E44 Llandinam building
(Top floor, same building as Computer Science reception)
You can find me in various places on the web, including this page, my official page, and my homepage.