<![if !vml]>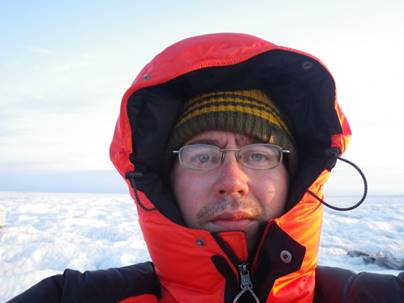 <![endif]>Cryosphere Microbiology @ Aberystwyth University
Arwyn Edwards B.Sc. (Hons), Ph.D. (Wales), FRGS, PGCTHE, FHEA
@arwynedwards
Senior Lecturer in Biological Sciences, Institute of Biological, Environmental & Rural Sciences and Centre for Glaciology
Here's some information about me, in particular my research interests, active projects in my lab and some of the research outputs I have contributed to over recent years.
My contact details are available on my IBERS staff profile. My CV has also been used as a bad example of why Microbiology is a great career choice by the Microbiology Society. I am always happy to discuss potential research collaborations or possibly supervising PhD projects (subject to T&Cs beyond my control!) within my area of expertise. My research team blogs at http://abercryoconite.wordpress.com/
Research interests: My particular focus is the microbial communities associated with glaciers and ice sheets, which we now appreciate comprise a major freshwater biome which harbours an equivalent number of cells to all other freshwater habitats. My research maps the biogeography of ice-microbe interactions across a broad range of spatial and temporal scales, from microbial, ice-mass through to global scales, and from metabolic reactions through to modelling glacial biogeochemistry during the last glacial period. The discovery of microbial feedbacks in glacial melting and distinctive microbial biodiversity associated with glaciers help highlight the relevance of current research on ice-microbe interactions on societally-relevant and evolutionary timescales.
A final twist to our study of microbes in cold regions is how the microbial ecosystem associated with humans responds to the stresses associated with operating in the deep field of remote, hostile environments such as the Polar regions. One current project involves working with volunteers on Sir Ranulph Fiennes' Trans-Antarctic Winter Traverse as <![if !vml]>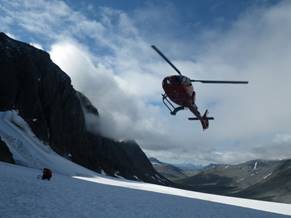 <![endif]>a "White Mars" analogue.
As such, my research team accesses a diverse toolbox of methods, from the field to the lab. This includes working from field stations in the Arctic and Alps, for example Svalbard in the High Arctic, Greenland or Abisko in the Swedish Subarctic and Obergurgl in the Austrian Alps as well as exploring the microbial diversity of glaciers in Sweden, Iceland, New Zealand and Antarctica. Back home, we use a range of cutting edge methods, such as high throughput sequencing (rRNA genes, microbial genomes, metagenomes & metatranscriptomes), FISH, laser capture, real time PCR, functional metagenomics, metabolomics, flow cytometry, geochemistry, as well as more traditional microbial methods of culturing and microscopy.
There are several active projects in the lab, with current and recent external funding sources including the UK Natural Environment Research Council, The Royal Society, Systematics Association, Great Britain Sasakawa Foundation, the Society for General Microbiology, National Geographic, British Antarctic Survey Low Carbon, Energy & Environment and Health and Bioscience National Research Networks and the Welsh Government. My team comprises one postdoctral fellow, seven PhD students working on Arctic soil, supraglacial and subsurface microbial ecology, several undergraduates following the Dissertation or Work Experience modules. The team also forms part of the Microbiology Research Group within IBERS. I convene the AU interdisciplinary Centre for Environmental Microbiology (AU iCEM) which unites 11 principal investigators from three Institutes at Aberystwyth University in collaborative research of microbial interactions with Earth systems. A substantial research infrastructure investment by the Higher Education Funding Council for Wales means AU iCEM is in the process of developing facilities which we hope will be world-leading for extreme environment ecology.
<![if !vml]>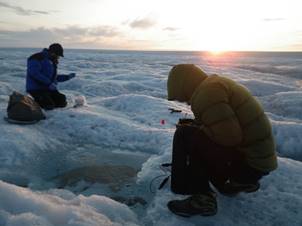 <![endif]>Media Coverage of Research Projects
3rd prize in the MO BIO Microbiome Awards October 2014
Microbe Talk – Society for General Microbiology Podcast October 2013
White Mars Microbiome Study March 2013
Probing the dark side of life on Arctic glaciers February 2013
2016
Pearce, D.A., Alekhina, I.A., Terauds, A., Wilmotte, A., Quesada, A., Edwards, A., Dommergue, A., Sattler, B., Adams, B., Magalhães, C.M., Chu, W., Lau, M., Cary, S.C., Smith, D.J., Wall, D., Eguren, G., Matcher, G., Bradley, J., de Vera, J.P., Elster, J., Hughes, K.., Benning, L.G., Gunde-Cimerman, N., Convey, P., Hong, S.G., Pointing, S.B., Pellizari, V.H., Vincent, W.F. 2016.  Aerobiology over Antarctica – a new initiative for atmospheric ecology. Frontiers in Microbiology 7 7 10.3389/fmicb.2016.00016
Douglas J.L., Worgan H.J, Easton G.L., Poret L., Wolf B.T., Edwards A., Davies E., Ross D., McEwan NR. Microbial diversity in the digestive tract of two different breeds of sheep. Journal of Applied Microbiology. doi: 10.1111/jam.13060.
.Cook, J., Edwards, A., Takeuchi, N., Irvine-Fynn, T. 2016. Cryoconite: the dark biological secret of the cryosphere. Progress in Physical Geography 40 (1) pp. 66-111. 10.1177/0309133315616574
2015
Cook, J., Edwards, A., Hubbard, A. (2015). Biocryomorphology: Integrating Microbial Processes with Ice Surface Hydrology, Topography, and Roughness. Frontiers in Earth Science 10.3389/feart.2015.00078 OA
Hill, R., Saetnan, E.R., Scullion, J., Jones, D., Ostle, .N.J., Edwards, A*. (2015). Temporal and spatial influences incur reconfiguration of Arctic heathland soil bacterial community structure. Environmental Microbiology 10.1111/1462-2920.13017
Lutz, S., Anesio, A.M., Edwards, A., Benning, L.G. Microbial diversity on Icelandic glaciers and ice caps. Frontiers in Microbiology. doi: 10.3389/fmicb.2015.00307 OA
Stibal, M, Godzeriler, E., Cameron, K.A., Box, J.E., Stevens, I.T., Gokul, J.K., Schostag, M., Zarsky, J.D., Edwards, A., Irvine-Fynn, T.D.L., Jacobsen, C.S. (2015) Microbial abundance in surface ice on the Greenland Ice Sheet. Frontiers in Microbiology. doi: 10.3389/fmicb.2015.00225 OA
Edwards A* (2015) Coming in from the cold: Microbial threats from the cryosphere. Frontiers in Earth Science. doi: 10.3389/feart.2015.00012 OA
Edwards, A* & Cook, S. (2015) Microbial dynamics in glacier forefield soils show succession isn't just skin deep. Molecular Ecology 24: 963–966. OA
Irvine-Fynn, T.D.L. Edwards, A., Mitchell, A.C. (2015) Is there life on glaciers? Geography Review 2015:38-41
2014
Ransom-Jones, E., Jones, D.L., Edwards, A., and McDonald, J.E. (2014) Environmental Distribution and Diversity of Members of the Cellulolytic Bacterial Phylum Fibrobacteres. Systematic and Applied Microbiology 37:7 502-509 DOI: 10.1016/j.syapm.2014.06.001
Edwards, A*.; Irvine-Fynn, T.D.L.; Mitchell, A.C.; Rassner, S.M.;  A germ theory for glacial systems? Wiley Interdisciplinary Reviews (WIREs) Water. 1:4 331-340  DOI: 10.1002/wat2.1029.
Blackwell, N.L.; Edwards, A.; Perkins, W.T.; Etifeddiaeth gweithgareddau mwyngloddio ym maes glo de Cymru: llygredd dŵr, ffurfiant mwynau haearn ac opsiynau glanhau dŵr cyffredin. Gwerddon 18:55-72
Langford, H.J.; Irvine-Fynn, T.D.L.; Edwards, A.; Banwart, S.A.; Hodson, A.J. (2014). A spatial investigation of the environmental controls over cryoconite aggregation on Longyearbreen glacier, Svalbard. Biogeosciences. 11, 5365-5380,  OA
Edwards, A*, Mur, L.A.J., Girdwood, S.N., Anesio, A.M., Stibal, M., Rassner, S.M.E., Hell, K., Pachebat, J.A., Post, B., Bussell, J.S., Cameron, S.J.S., Griffith, G.W., Hodson, A.J., & Sattler, B. (2014). Coupled cryoconite ecosystem structure-function relationships are revealed by comparing bacterial communities in alpine and Arctic glaciers. FEMS Microbiology Ecology 89: 222–237.
Irvine-Fynn, T. D. L*. & Edwards, A*. (2014). A frozen asset: The potential of flow cytometry in constraining the glacial biome. Cytometry, 85: 3–7. doi: 10.1002/cyto.a.22411
2013
Edwards, A.*; Pachebat, J.A.; Swain, M., Hegarty, M., Hodson, A.J., Irvine-Fynn, T.D.L, Rassner, S.M.E., & B. Sattler (2013). A metagenomic snapshot of taxonomic and functional diversity in an Alpine glacier cryoconite ecosystem. Environmental Research Letters, 8:035003 doi:10.1088/1748-9326/8/3/035003 OA
Hell, K.; Edwards, A.*; Zarsky, J.; Podmirseg, S.M.; Girdwood, S; Pachebat, J.A.; Insam, H.; & B. Sattler. (2013). The dynamic bacterial communities of a melting High Arctic glacier snowpack. ISME Journal. 7: 1814–1826
Edwards, A.*; Rassner, S.M.; Anesio, A.M.; Worgan, H.J.; Irvine-Fynn, T.; Williams, H.; Sattler, B.; & G.W. Griffith. (2013) Contrasts between the cryoconite and ice-marginal bacterial communities of Svalbard glaciers. Polar Research. 32: 19468 OA
Blackwell, N. L., Perkins, W. T., Edwards, A., Johnson, D. B., Hallberg, K. B., Griffith, G., Bearcock, J. M. a Palumbo-Roe, B. (2013). The reactivity of microbially-reduce goethite: assessing the potential of a naturally-occurring waste material for mine drainage remediation. Mineralogical Magazine, 77 (5), 713
Edwards, A.; Douglas, B.; Anesio, A.M.; Rassner, S.M.; Irvine-Fynn, T., Sattler, B. & Griffith, G.W. (2012)  A distinctive fungal community inhabiting cryoconite holes on glaciers in Svalbard. Fungal Ecology 6:168-176
2012
Edwards, A.; Rassner, S.M., Irvine-Fynn, T.; Williams, H. & G.W. Griffith (2012) Darogan cyfraniadau rhewlifoedd olaf Eryri i gylchredoedd carbon Cyfnod y Dryas Diweddaraf ar sail modelau amrwd o ecosystemau rhewlifol y cyfnod hwyr-rewlifol. [in Welsh=Reconstructing the last supraglacial ecosystems of Wales] Gwerddon 12:53-78
Irvine-Fynn, T.; Edwards, A.; Hodson, A.J.; Rassner, S.M., Langford, H.; Newton, S.; Telling, J., Anesio A.M. (2012). Microbial cell budgets of an Arctic glacier surface quantified using flow cytometry. Environmental Microbiology 14:2998-3012.
Dougal, K.., Harris, P.A., Edwards, A., Pachebat, J.A., Blackmore, T.M., Worgan, H.J., Newbold, C.J. (2012) A comparison of the microbiome and metabolome of different regions of the equine hindgut. FEMS Microbiology Ecology. 82: 642–652
2011
Edwards, A; Anesio, A.M.; Rassner, S.M.; Sattler, B.; Hubbard, B.P.; Perkins, W.T.; Young, M. and Griffith, G.W. (2011) Possible interactions between bacterial diversity, microbial activity and supraglacial hydrology of cryoconite holes in Svalbard. ISME Journal.  5:150-160. OA
2009
Edwards, A (2009) The microbial diversity and biogeography of supraglacial ecosystems. PhD Thesis, Aberystwyth University
2007
Griffith, G. W., Easton, G. L., Detheridge, A., Roderick, K., Edwards, A., Worgan, H. J., Nicholson, J. & Perkins, W. T. (2007). Copper deficiency in potato dextrose agar causes reduced pigmentation in cultures of various fungi. FEMS Microbiology Letters 276, 165-171
The information provided on this and other pages is the personal responsibility of Arwyn Edwards and not that of Aberystwyth University. Any opinions expressed are those of Arwyn Edwards and should not be taken to be those of Aberystwyth University. No cryoconites were harmed in the making of this page.