Contact details
email: sxc AT aber DOT ac DOT uk
Department of Mathematics
Institute of Mathematics, Physics and Computer Science
Aberystwyth University
and
Institute of Non-Newtonian Fluid Mechanics

Phone: +44-(0)1970-622764
Fax: +44-(0)1970-622826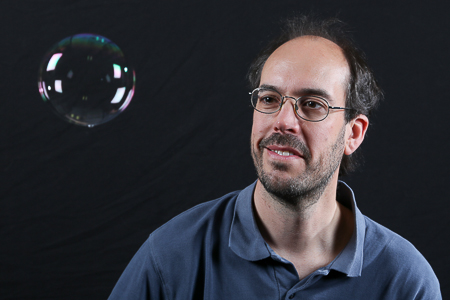 Research and Teaching
Other Teaching:
Foam News
See foam news archive for more.
Publications
Also see AU's repository.
ORCID: 0000-0001-6129-3394

A. Mughal, S.J. Cox and G. E. Schroeder-Turk (2016) Curvature driven motion of soap cells in toroidal Hele-Shaw cells. Under review.

S.J. Cox, F. Graner, R. Mosseri and J.-F. Sadoc (2016) Quasicrystalline three-dimensional foams. To appear in J. Phys. Condens. Matter. Pre-print

S.J. Cox and I.T. Davies (2016) Simulations of quasi-static foam flow through a diverging-converging channel Korea-Aust. Rheol. J. 28: 181--186. Postprint.

M.A.C. Teixeira, S. Arscott, S.J. Cox and P.I.C. Teixeira (2015) What is the shape of an air bubble on a liquid surface? Langmuir 31: 13708-13717. Postprint.

T. Davies, L. Garratt and S. Cox (2015) Least area partition of a cylinder into three parts. Gwerddon 20: 30-43. Offprint.

R.J. Whittaker and S.J. Cox (2015) Stability of a Helicoidal Surface inside a Cylinder with Pinned Diameters. Quart. J. Mech. Appl. Math. 68: 23-52. Preprint.

L.E. Nonnekes, S.J. Cox and W.R. Rossen (2015) Effect of Gas Diffusion on Mobility of Foam for Enhanced Oil Recovery. Transp. Porous Med. 106: 669-689. Preprint.

S.J. Cox (2015) Simulations of bubble division in the flow of a foam past an obstacle in a narrow channel. Coll. Surf A. 473: 104-108. Preprint.

I. Cantat, S. Cohen-Addad, F. Elias, F. Graner, R. Hohler, O. Pitois, F. Rouyer, A. Saint-Jalmes, R. Flatman (trans.), and S.J. Cox (ed.) (2013) Foams: structure and dynamics. Oxford University Press, Oxford.

See publications archive for more.